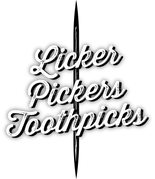 Your cart is currently empty.
Single Flavor Pack
Our toothpicks are made from white American white birch.  Now you can make sure you have the best for the long haul. We're committed to the character of natural ingredients and no plastic in our packaging.

 Our toothpicks are subtle at first, building complexity when warmed in the mouth. So take your time and give the boozy phenols a chance to speak - you'll like what they have to say. Our toothpicks are known the world over. 
Pick your Pick. 25ct. Per pack.
Flask NOT included.